Options
From Floating Charts Wiki
The MT4 Floating Charts options can be accessed via the Options menu (please refer to Using MT4 Floating Charts for access information).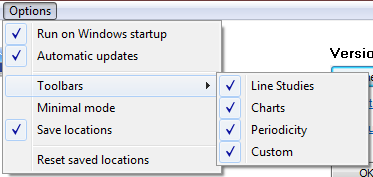 By default, ALL options are enabled EXCEPT for Minimal mode.
Run on Windows startup

Start MT4 Floating Charts automatically when your computer starts.

Automatic updates

Automatically check for updates when the program starts.

Toolbars (Sub Menu)

Select which toolbars to include on floating charts.

Line Studies

The toolbar containing the cursor and drawing tools (e.g., trend line, horizontal line, vertical line, etc.).

Charts

The toolbar containing the chart type buttons (bar/candle/line), zoom in/out, etc.

Periodicity

The toolbar containing the timeframe buttons (e.g., M1, M5, etc.).
The toolbar containing custom buttons to access additional MT4 Floating Charts features.
Exclude the toolbars from all floating charts. Enabling this will override any selection under Toolbars.
Automatically save and restore the positions of floating charts on your monitors.

Reset saved locations (Command)

Delete all chart position data used by the Save locations feature.